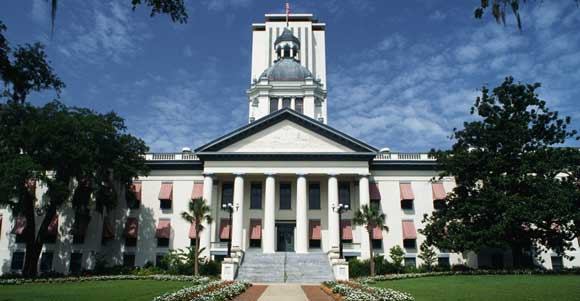 From: Mike Huey, Todd Steibly and Jessica Love
Following is a comprehensive review of the legislative session that just ended.
Thanks to our lobbyists from Gray-Robinson for another outstanding job.
There was a somewhat rocky end to what was perceived by many as one of the most dysfunctional Sessions in recent years. Due to many policy issues getting tied together with the budget, and a failure for House and Senate leaders to come to an agreement on time, the budget was presented too late to allow the Legislative Session to end as regularly scheduled on Friday, May 5, 2017. Due to the 72-hour "cooling off" period required by the State Constitution, the House and Senate were forced to extend the Session by three days. After approving the state budget, the Legislature adjourned sine die at 8:52 p.m.
The budget totals $83 billion, including funding a major Senate priority for an Everglades water storage reservoir to divert discharges from Lake Okeechobee which are often blamed for toxic algae blooms that threaten coastal estuaries. The budget funding provides $64 million, as well as $800 million in bonding authority to cover the state's half of the $1.5 billion total cost. The budget also allocated more than $600 million to boost the academic quality and reputation of Florida's higher education facilities, providing for an increase in Bright Futures scholarships and also requiring universities to offer flat-fee block tuition programs to students.
A major priority of the House, the budget funds "schools of hope," which provides $200 million to attract charter schools to impoverished areas where traditional public schools are underperforming. The budget also significantly revamps and reduces funding for Enterprise Florida and Visit Florida, the taxpayer-funded economic development and tourism marketing programs, which was strongly opposed by Governor Rick Scott.
The Legislature also agreed to a $34.2 billion health care budget, which includes $100,000 for Donated Dental Services and $200,000 for community water fluoridation.
There were several high profiles, heavily debated issues that failed to pass this Session, including legalizing medical marijuana, repealing personal injury protection insurance, reforming the state workers' compensation system and gambling.
Last Session, legislation was passed to separate dental services from Statewide Managed Medical Care (SMMC) programs. As required under the bill, the Office of Program Policy Analysis and Government Accountability (OPPAGA) report was presented to the Legislature by December I, 2016, which essentially indicated that there was insufficient data to determine the effectiveness of providing dental services through SMMC or separately. However, because the Legislature took no action this year regarding the contents of the report, as directed by the law, the Agency for Health Care Administration must now move forward with implementing a statewide competitive procurement for a separate dental program for children and adults with a choice of at least two vendors. AHCA is required to commence enrollment in the Medicaid prepaid dental health program no later than March 1, 2019.
---
LEGISLATION WHICH PASSED:
POMP Database HB 557 – Controlled Substance Prescribing (Rep. Nick Duran – Miami) SB 840- Controlled Substance Prescribing (Sen. Jeff Clemens-Lake Worth)
This legislation makes changes to the state's prescription drug monitoring database (PDMP). The bills shorten the length of time from seven days to the next business day for a pharmacy or physician to report dispensing of a controlled substance, and requires that the information be reported via the DOH electronic system. The bill makes no changes to the PDMP reporting exemptions for hospitals. The legislation was supported by the Florida Behavioral Health Association and the Florida Chapter of the American College of Surgeons.
Rights and Responsibilities of Patients HE 1253 – Rights and Responsibilities of Patients (Rep, Shawn Harrison – Tampa) SB 1206 – Rights and Responsibilities of Patients (Sen. Bill Montford-Tallahassee)
This bill adds to the Patient's Bill of Rights and Responsibilities, to allow a patient to bring any person of his or her choosing to patient-accessible areas of a health care facility or a health care provider's office to accompany the patient while the patient is receiving inpatient or outpatient treatment or is consulting with his or her health care provider, The bill will also allow facilities to prohibit patients from exercising this right if doing so would risk the safety or health of the patient, other patients, or staff of the facility or office or cannot be reasonably accommodated, The bill requires health care providers and health care facilities to include this new provision in the summary of rights and responsibilities provided to patients.
Discount Plan Organizations
HE 577-DiscountPlanOrganizations (Rep.CaryPigman-Sebring) SB430-Discount Plan Organizations (Sen. Aaron Bean -Jacksonville)
Discount Medical Plan Organizations (DMPOs) offer discount medical plans, in
exchange for fees, dues, charges, or other consideration, which provide access for plan members to providers of medical services, including dentists, and-the right to receive medical services from those providers at a discount. This legislation renames a "Discount Medical Plan" and a "Discount Medical Plan Organization" as a "Discount Plan" and a "Discount Plan Organization" (DPO), and clarifies that the definition of a "Discount Plan" excludes any plan that does not charge a fee to members, The bill removes all rate and form filing and approval requirements for DPOs. The legislation also requires a member to receive a reimbursement of charges if the member cancels a plan in compliance with the rules, to increase flexibility in marketing, it allows a DPO to delegate functions to marketers and allows a marketer or DPO to commingle medical services and other services on a single page of forms, advertisements, marketing materials or brochures.
Impaired Health Care Practitioners HE 229 – Health Care Practitioner Licensure (Rep, Cord Byrd – Jacksonville Beach) SB 876 – Health Care Practitioners (Sen. Dana Young- Tampa)
This legislation updates the operation of the impaired practitioner program (IPP), The IPP assists health care practitioners who are impaired or potentially impaired as a result of the misuse or abuse of alcohol or drugs, or of a mental or physical condition which could affect the ability to practice with skill and safety. It allows certain licensed practitioners to report practitioners having, or suspected of having, an impairment to a DOH contracted consultant rather than to the department. To encourage self-referral, the bill prohibits a consultant from providing information to the DOH about a self-referring participant if the consultant is not aware of a pending action against the practitioner and the participant is complying and making progress with the terms of the IPP contract, unless authorized by the participant. A program referral or participant must enter into a participant contract with the consultant which provides the consultant's requirements for the participant to successfully complete the IPP and monitoring plan. If a participant fails to complete the IPP for any reason, a consultant must notify the DOH for disciplinary action. If a consultant concludes that a practitioner's impairment constitutes an immediate, serious danger to public health, the consultant must notify the department.
---
LEGISLATION THAT FAILED:
Certificate of Need
HB 7 -Availability of Health Care Services/or All Florida Patients (Rep. Alex Miller – Sarasota) SB 676 -Availability of Health Care Services (Sen. Rob Bradley- Orange Park)
These bills would have eliminated the Certificate of Need program at the Al-ICA which determines how many hospitals, nursing homes and hospices can be in one area at a time based on demand for their services. The House sent its bill to the Senate, however the Senate never heard the bill. We anticipate this issue will be filed again next Session.
Trauma Deregulation
HB 1077 -Trauma Services (Rep. Jay Trumbul1-Pcmama City) SB 746- Trauma Care (Senator Travis Hutson – Palm Coast)
These bills would have eliminated the 44-trauma center cap as well as the limits on the number of trauma centers permitted in each of the current 19 regions throughout the state. Like last Session, proponents of the bills contended that adding trauma centers helps save lives by reducing the time and distance needed to transport injured people for care. Near the end of Session, the Senate held a trauma workshop where Health Policy Chair Dana Young invited several trauma physicians and the Department to testify. Many of the physicians warned that adding new centers would dilute the patient population and staff from existing trauma centers. Although the House amended its bill to instead create a statutory minimum need for trauma centers within a trauma service area based on population, the legislation failed to pass both chambers.
Ambulatory Surgery Centers
HE 145 -Recovery Care Services (Rep. Heather Fitzenhagen -Fort Myer;)
SB 222 -Length of Time a Patient May Stay at an Ambulatory Surgical Center or Mobile Surgical Center (Sen, Greg Steube – Sarasota)
For the fourth consecutive Session, these bills would have allowed patients to stay in ambulatory surgical centers overnight, as long as it does not exceed 24 hours. The House bill would also have created a new license for a Recovery Care Center (RCC), defined as a facility that is not part of a hospital, to which a patient is admitted and discharged within 72 hours. RCCs must have emergency care and transfer protocols with at least one hospital. While the Senate Bill originally contained the RCC language, it was amended to only address the ASC 24 hour stay. Despite the legislation passing the House, the Senate refused to give further consideration to the bill. We expect to see this again in the 2018 Session.
Maintenance of Certification
HB 723 – Health Care Certification (Rep. Julio Gonzalez -Sarasota) SB 1354 – Medical Specialties (Sen. Dana Young- Tampa)
This legislation would have prohibited the allopathic board, osteopathic board, DOH, health care facilities, and insurers from requiring physicians to maintain board certification in a subspecialty as conditions of licensure, reimbursement or admitting privileges. The bill specified that this prohibition would not have impacted the boards' ability to require continuing medical education. The bill allowed a physician whose board certification has lapsed to hold himself or herself out as "initially" board certified.
Personal Injury Protection
HE I 063 – Motor Vehicle Insurance (Rep, Erin Grall- Vero Beach) SB 1766 -Motor Vehicle Insurance (Sen. Tom Lee -Brandon)
The Legislature failed to repeal the mandate for Florida drivers to carry personal injury protection insurance. The House bill required $25,000 in coverage for damages due to the bodily injury or death of any one person and $50,000 for bodily injury or death to two or more persons. The Senate bill differed, most significantly, by replacing the PIP mandate with a requirement drivers carry $5,000 in "MedPay" which would cover 100 percent of covered medical losses.
Regulatory Boards
HB 1193 -Regulatory Boards (Rep, Dan Raulerson -Plant City) SB 582 – Regulatory Boards (Sen. Jack Latvala – Clearwater)
In 2015, the United States Supreme Court held that a state board on which a controlling number of regulatory board members are "active market participants" – members of the profession being regulated- must be"actively supervised" in order to seek immunity from federal antitrust laws. This decision obviously impacts our state professional boards. Legislation was filed to attempt to follow the direction given by the U.S. Supreme Court by requiring the Department of Business and Professional Regulation (DBPR), the Department of Health (DOH), and the Department of Financial Services (DFS) to review final decisions of all regulatory boards under their jurisdiction to determine if final regulatory board decisions constitute anticompetitive conduct. These bills required that the reviewing department officials not be active market participants and that the agency's decision would not be subject to legal challenge. Further, the bills provided that legal defense costs of a board or board members for antitrust actions would be paid from trust funds under the appropriate agency jurisdiction.
Medicaid Managed Care
HB 7117 – Statewide Medicaid Managed Care Program (Rep. Travis Cummings – Orange Park) SB 916 – Statewide Medicaid Managed Care Program (Sen. Denise Grimsley-Sebring)
These bills would have made changes to the state's mandatory Medicaid managed care program – both the long-term care program and the managed medical assistance component. It would have consolidated the number of regions across the state from 11 to 8 and restructured those regions to reflect enrollee utilization patterns and provider referral patterns and increased the minimum or maximum number of plans with which AHCA could contract to provide services. The bills would also have required AHCA to impose fines on managed care plans which failed to pay providers on time. The legislation was requested by AHCA, which wants changes made before it is due to rebid the Medicaid program next summer. We anticipate this legislation to be filed again next Session.
Retroactive Denial of Claims by Health Insurers
HB 579 – Payment of Health Care Claims (Rep. Bill Hager – Boca Raton) SB 102 – Payment of Health Care Claims (Sen. Greg Steube -Sarasota)
Current law prohibits a health insurer and a health maintenance organization (HMO) from retroactively denying claims because of insured ineligibility more than one year after the date the claim is paid. There is, however, no redress for erroneous authorization and an insured' s reliance on that authorization. These bills would have precluded an insurer or HMO from retroactively denying claims if the insurer or HMO had previously verified eligibility at the time of treatment and provided an authorization number.
Health Care Access
HE 763 -Access to Health Care Practitioner Services (Rep. Mike Grant – Port Charlotte) SB 1432 -Access to Health Care Practitioner Services (Sen. Keith Perry- Gainesville)
These bills were intended to incentivize physicians to provide pro bono health care services to certain low-income individuals and provide an opportunity for retired physicians and physicians from other jurisdictions to provide health services to low-income and medically underserved individuals in this state. The bills would have authorized both the Board of Medicine and the Board of Osteopathic Medicine to issue a limited number of restricted licenses to physicians not licensed in Florida who contract to practice for 36 months solely in the employ of the state, a federally funded community health center, a migrant health center, a free clinic, or a health provider in a health professional shortage area or medical underserved area. Prior to the end of the 36- month contract, the physician would have been required to take and pass the appropriate licensing exam to become fully licensed in Florida.
Health Care Facility Regulation
HB l 195 -Health Care Facility Regulation (Rep. Alex Miller-Sarasota) SB 1760 – Health Care Facility Regulation (S en. Denise Grimsley- Sebring)
These bills would have amended various authorizing and licensing statutes for entities regulated by the Agency for Health Care Administration (AHCA). The legislation would have clarified existing licensure and enforcement requirements, amended certain provisions to eliminate conflict between part I of Chapter 395, F.S., Chapter 400, F.S., and Part II of Chapter 408, F.S., increased administrative efficiency at AHCA and repealed redundant or obsolete statutes. Although the legislation failed to pass this Session, we expect AHCA to file this bill again next year.
Patient Savings Act
HE 449 -Health Insurance (Rep. Paul Renner- Palm Coast) SB 528- Health Insurance (Sen. Greg Steube – Sarasota)
This legislation would have created the Patient Savings Act, which would have required health insurers to create a shared savings incentive program to encourage insured individuals to shop for high quality, lower cost health care services and share any savings realized as a result of the insured's choice. The cash payment would have to have been at least 50 percent of the health insurer's saved cost as compared to the average price. The bills required certain health insurers to provide a method for an insured to request information on the contracted amount with a health care provider for certain health care services, called shoppable health care services, and the average price for those same services.
Direct Primary Care Agreements
HB 161 – Direct Primary Care Agreements (Rep. Danny Burgess – Zephyrhills) SB 240 – Direct Primary Care (Sen. Tom Lee -Brandon)
Direct primary care (DPC) is a primary care medical practice model that eliminates third party payers from the primary care provider-patient relationship. Through a contractual agreement and a monthly fee, usually between $50 and $100 per person, a patient pays a monthly fee to the primary care provider to utilize defined primary care services. These bills provided that DPC agreements are not insurance and not subject to regulation under the Florida Insurance Code, nor are they workers' compensation insurance. This legislation has been filed for several years in a row, and although the bill passed both chambers this year, a few Senate amendments were added on the last day of Session that caused the bill to ultimately die in the House.
ARNP Medical Directors
HB 129 -Advanced Registered Nurse Practitioners (Rep. Rene Plasencia – Titusville) SB 96 -Eligibility for Appointment as a Medical or Clinic Director (Sen. Greg Steube – Sarasota)
This would have allowed certain physician assistants and advanced registered nurse practitioners to serve as medical directors of clinics or facilities and authorizes them to sign, certify, stamp, verify, or endorse documents that require signature, certification, stamp, verification, or endorsement of physician. The legislation was intended to address incidents in rural areas where a physician is not readily available to sign off on required operational documentation.
---
NEXT SESSION
With the 2018, Legislative Session beginning on January 9, 2018, we anticipate committee meetings to begin this fall and look forward to summer discussions regarding your 2018 legislative priorities. As always, we have enjoyed working with the Society very much this Session and commend you for your untiring efforts and commitment to the process.