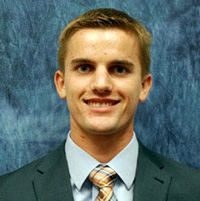 It is with great pleasure that the Florida Society of Oral Surgeons presents the 2018 Lebowitz Award to Cole G. Murbach. Mr. Murbach attended Clemson University from 2010 to 2014, being on the President's List every year, attaining a 4.0 GPA and graduated Summa Cum Laude with a Bachelor of Science Degree in Microbiology with a Biomedicine Concentration and a concomitant minor in Business Administration. At Clemson, he was awarded numerous Honors including: Nonresident Merit Scholarship, The Gary A. & Julie B. Ransdell Scholarship, The Calhoun Honors Society Honors College, Alpha Epsilon Delta Preprofessional Honor Society, he received a grant for Microbiology Research and won 1st Place with his poster in the South Carolina Aging Day Conference. Mr. Murbach was also President of the Clemson Running Club where he organized races, transport, hotels, fundraisers, and community service and social events and participated in yearly officer training. He Participated in the Resurrection Catholic Church Vacation Bible School from 2009 – 2011, where he instructed Pre – K children and organized children's activities in Winter Garden, Florida. His Publication was: S. Guham, O. Natgarajan C.G. Murbach, J. Dinh, E. Wilson, M. Cao, S. Zou & Y, Dong. "Supplemental Timing of Cranberry Extract Plays a Key Role in Promoting Caenorhabditis elegans Healthspan." Multidisciplinary Digital Publishing Institute, 21 Feb. 2014.
In 2014, Mr. Murbach was granted a position at the University of Florida College of Dentistry (UFCD) and has been on the Deans's list for four years. Mr. Murbach has consistently excelled academically with Externships/Observerships at the Arnold Palmer Hospital for Children, with Dr. Ramon Ruiz; Central Florida Oral and Maxillofacial Surgery observership with Drs. Wenk, Langan & Crofton; and a University of Florida Oral and Maxillofacial Surgery Externship.
One of Mr. Murbach's clinical instructors describes him as follows: "In the clinical setting, as a faculty member in the Student Oral Surgery Clinic and course director for two of his courses, I can attest to his keen interest in Oral Surgery and Oral Medicine. Clinically, he is confident, talented and competent. He is prepared and reviews his procedures with the faculty with confidence. Mr. Murbach works exceptionally well with the faculty, staff and his peers. He is a supportive mentor to the junior dental students rotating through the clinic. He is trustworthy and accountable for his actions. Mr. Murbach is also an active participant in local dental volunteer activities that provided dental services to an underserved population. Mr. Murbach's decision to pursue oral surgery was well thought out. He is an avid member of the Oral Surgery Interest Group. He attends scheduled Journal Club meetings and the weekly OMFS patient conference and has attended several externships and has observed the operation of several large OMFS clinics. He has shadowed the Oral Surgery residents and has accompanied them to the OR. He managed his time wisely by volunteering in the Student Oral Surgery Clinic during semester breaks to compensate for the time spent attending externships. Mr. Murbach knows firsthand about the effects of a demanding schedule and emergency call, since his father is an anesthesiologist."
Our congratulations to you on your stellar accomplishments, Dr. Murbach, and we of the FSOMS extend to you our best wishes for continued success as you pursue your future pursuits in the field of Oral and Maxillofacial Surgery!
Lawrence K. Cook, Awards Chairman