November 1-3, 2019
2019 Annual Meeting
The Breakers
West Palm Beach, Florida
This meeting in Collaboration with the Osteo Science Foundation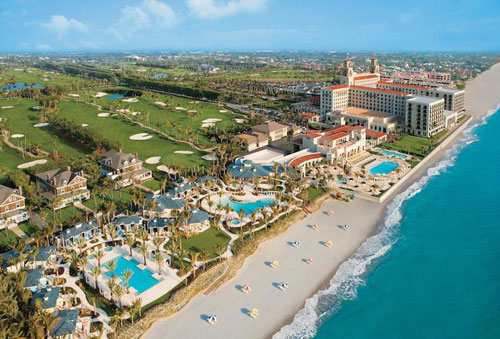 ---
HOTEL ACCOMMODATIONS
The room block is currently full at The Breakers. If you must cancel your room reservation at The Breakers, please first contact Melissa Connor at  mconnor@pami.org or 770-271-0453 so that we can fill your room from the waiting list and avoid cancellation fees.
Additional nearby hotels include:
The Brazilian Court – (561) 655-7740
The Chesterfield Palm Beach – (561) 659-5800
Hyatt Place West Palm Beach – (561) 655-1454
KEYNOTE SPEAKER
To the Members of the Florida Society of Oral and Maxillofacial Surgeons:
Due to unfortunate circumstances affecting Dr. Anthony Sclar and his family, he will not
be able to attend and be the featured speaker at the Florida Society of Oral and
Maxillofacial Surgeons Annual Meeting, held this year in collaboration with Osteo Science
Foundation, at the Breakers in West Palm Beach.
Fortunately, Daniel B. Spagnoli, DDS, PhD, has agreed to step in as the Keynote
Speaker at this meeting. Dr. Spagnoli is well known to this association, as well as
surgeons throughout the country and internationally. Dr. Spagnoli has lectured
extensively on regenerative/bone and soft tissue grafting techniques and reconstruction
and rehabilitation of extremely complex implant patients. He has developed cutting edge
technology that integrates the latest computer virtual planning with the most advanced
reconstructive techniques. He has lectured extensively throughout the country and
internationally and published extensively in this area, introducing many completely new
and innovative techniques enhancing patient outcomes.
On behalf of Dr. Gesek and the FSOMS, as well as the Board and staff of Osteo Science
Foundation, we are proud to have Dr. Spagnoli as our featured speaker this year, and
hope that you will join us as we welcome him at this meeting.
Sincerely,
Myron R. Tucker, DDS
Science and Education Liaison, Osteo Science Foundation
Daniel B. Spagnoli, DDS, PhD

PRESENTATION OVERVIEW

Complete digital work flow on full arch restoration with fixed and with fixed-removable hybrid prosthesis

Learning Objectives:

1. To understand the complexities of a complete digital workflow for complex patients requiring arch reconstruction/grafting and fixed implant placement

2. Visualize the process that integrates, CBCT, intraoral scanning and virtual surgical planning for these patients

3. Understand the advantages and disadvantages of "in office" printed and milled prosthesis.

Treatment of the Edentulous and Terminal Dentition Maxilla with Bone Grafts and Implants.

Objectives:

1. Grafting methods correlated with prosthetic options that achieve masticatory efficiency, and esthetic restoration will be presented.

2. The presentation will review clinical evaluation, Radiological evaluation and comprehensive treatment planning.

3. Implant configurations that favor graft or native bone maintenance will be discussed in conjunction with prosthetic principles. The concept of guided implant and guide indexed prosthesis placement to gain accuracy and efficiency will be introduced.

Vertical and Transverse Alveolar Ridge Construction: Patient Specific Treatment

Objectives:

1. To present a wide variety of hard and soft tissue grafting options using autogenous,

allogeneic and or xenogenic material.

2. Focus on personalized treatment that takes into consideration several factors

including, dentition, alveolar ridge deficiencies, prosthetic final outcome all

combined with complex medical histories.

3. Present a new concept for "layered" grafting techniques.
---
Richard Mufson, DDS

Preventing Medical Errors/Risk Management
(required course)

 

Learning Objectives: 

This course will consist of sharing and learning information for the purpose of incorporating into our daily practice:

(1) Techniques designed to increase awareness of, and prevent, medical errors

(2) Techniques designed to (a) lower the risk and/or likelihood of a lawsuit, or in the event of a legal claim against us, (b) lower right risk and/or likelihood of the plaintiff prevailing

(3) An algorithm for reducing patient injury and/or associated legal claims, using as examples three types of claims OMS are called upon to defend: lingual nerve injury, IA nerve injury, and TMJ

---

 

Dr. Ileana Pino

Human Trafficking: The Role of Healthcare Professionals

1 hr. CE credit and meets the FBOD requirement

 

Learning Objectives: 

Human trafficking is a growing public health issue in the United States. This webinar will equip healthcare professionals to understand the problem and health consequences of labor and sex trafficking. Participants will learn to identify victims in a healthcare setting using trauma-centered interviewing techniques, recognize key factors that put people at risk for human trafficking, know where to report suspected victims and the national human trafficking resources available to human trafficking survivors. 

Course Objectives:

Identify the different forms of human trafficking.

Discuss the global epidemic of human trafficking.

Identify vulnerable population groups in human trafficking.

Recognize red flags to identify victims in healthcare settings.

Identify interviewing strategies to assess and identify victims in a healthcare setting.

Discuss the psychological, health, and social consequences of human trafficking.

Recognize the national human trafficking resources and reporting agencies available  to survivors.

This meeting will offer both CDE and CME credits for your attendance.
---
Accreditation and Designation Statements
Florida Society of OMS Annual Meeting
This activity has been planned and implemented in accordance with the accreditation requirements and policies of the Accreditation Council for Continuing Medical Education (ACCME) through the joint providership of PeerPoint Medical Education Institute, LLC and Osteo Science Foundation. The PeerPoint Medical Education Institute, LLC is accredited by the ACCME to provide continuing medical education for physicians.
The PeerPoint Medical Education Institute, LLC designates this live activity for a maximum of 10 AMA PRA Category 1 Credit(s)™. Physicians should claim only the credit commensurate with the extent of their participation in the activity.
Sponsored by: