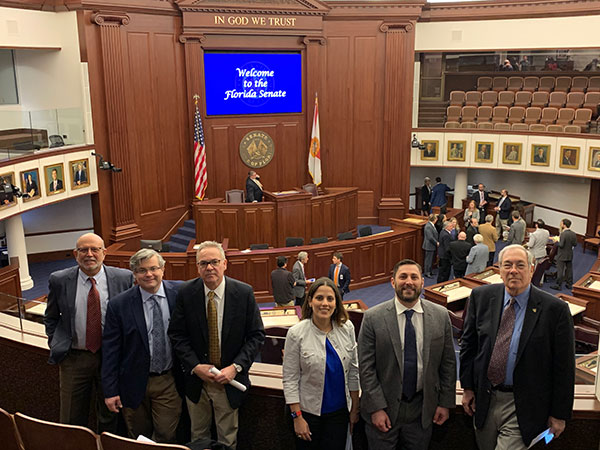 Drs. Richard Mufson, Marcos Diaz, Carlos Coro, Mariana Velazquez, Jason Portnof
and Steve Kotkis visit the Senate Chamber during the recent FSOMS Legislative Day
Nineteen dedicated FSOMS members joined our outstanding lobbying team from Gray-Robinson in Tallahassee on January 22 to meet with members of the House and Senate to discuss key issues impacting the specialty.
Key issues addressed by the group:
SB 132/HB 979 Dental Therapists: FSOMS opposes this legislation which would license dental therapists and authorize them to independently perform irreversible, permanent procedures such as extractions.
SB 878/HB 145 Emergency Room Health Care Practitioners Public Records: FSOMS supports protecting the personal identifying information of OMS's in ER settings.
SB 500/HB 309 Prohibited Acts by Health Care Practitioners: FSOMS supports legislation that prohibits practitioners from using certain credentials, including OMS, if not licensed to do so.
SB 1884/HB 955 Physician Referrals: FSOMS opposes this legislation which requires physicians and dentists, when referring a patient to another provider, to analyze the patient's insurance or managed care plan to determine if the provide is a member of the plan.
SB 1830/HB 1103 Electronic Prescribing: FSOMS opposes these bills that require prescriptions to be electronically generated to the patient's pharmacies.
A special thanks to the following FSOMS members that took time from their busy schedules to participate and make a difference for our specialty: Drs. Chad Marshall, Brett Laggan, Carl Melzer, Richard Mufson, Marcos Diaz, Carlos Coro, Mariana Velazquez, Jason Portnof, Steve Kotkis, Mark Tucker, Bill Storoe, David Thompson, Russel Walther, Uday Mehta, Scott Horne, Mark Braxton, Howard Fisher, Dan Gesek and Manik Bedi. Also thanks to Mike Huey, Todd Steibly and Jessica Love with Gray-Robinson for their invaluable efforts on behalf.