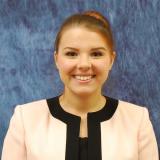 On May 11th, 2019, the FSOMS annual Lebowitz Award was presented to Olga Saniukovich, the very first female to have received this prestigious award.
Olga was born in Belarus, and moved to the United States with her family at age four. She has lived in the Tampa Bay, Florida area with her parents and younger brother since 2000. Her mother was in dental school when Olga was born. Olga has known that she was destined to be a dental clinician since she first insisted on trying on her mother's lab coat at age two. Her curiosity quickly bloomed into passion and before long, she was traveling with her general dentist mother, Dr. Victoria Saniukovich, attending various CE courses, and discussing new surgical techniques at the dinner table, sometimes to the dining disgust of Alex her dad and her brother, Daniel. Olga's father is a software engineer, and her brother is a college student majoring in biomedical engineering. They have both wholeheartedly supported Olga's academic interests. Unfortunately, Olga's Mon passed away last October, but certainly the influence of her mother's love, support and professional example will enlighten Olga for her remaining lifetime.
Olga graduated Magna Cum Laude from the University of South Florida in 2015 with a BS degree in Biomedical Sciences and a BA degree in Psychology. This past May, she also graduated from the University of Florida College of Dentistry with an overall 3.87 GPA; ranking her #18 out of 94 in her class. She has also been inducted into the Omicron Kappa Upsilon National Dental Honor Society as an alumni member.
Olga has dedicated her adult life to become a professional who provides availability and affability where-ever she goes. She gives assistance to her fellow colleaques as well as providing dental care to the general public. For several years prior to starting dental school, Olga worked as a dental assistant in both corporate and private dental practices. She actively seeks out opportunities to help others learn and grow — working as a Tutor and a Teaching Assistant in both didactic and preclinical courses, in addition to consistently volunteering her free time to mentor her peers in their clinical procedures.
Since her first semester of dental school, Olga has continued to volunteer in many dental clinics and missions, including Ocala's FreeD.O.M. and Alachua County's We Care Clinic – both for patients living 200% below the poverty level and also to Gainesville's Florida Mission of Mercy. Olga was one of two students who booked the flights, obtained the insurance and visas for the students and faculty, made the hostel arrangements and coordinated all the clinical and non-clinical activities for a Cuba Dental Service Trip. She led the fundraising efforts that culminated in $16,000 for supplies, coordinated the US and Cuban dental school faculty for student rotation, selected the patients for student treatment and ensured that all students received credit at UF for procedures they performed. She interviewed, selected, trained and coordinated student and faculty teams and help perform operative procedures in endodontics and simple surgical extractions. This "first ever" Cuba Dental Educational Service Trip was in July 2017.
Olga has done Externships at the University of Texas Health Science Center and in the University of Florida College of Dentistry's Oral and Maxillofacial Surgery program. She has been a "Teaching Assistant" at U of F College of Dentistry in Fixed Prosthodontics, a "Peer Mentor" for the U of F College of Dentistry Tutoring Service, been an "Admissions Outreach Ambassador" for the U of F College of Dentistry Admissions, been a "Program Assistant" for the U of F College of Dentistry's Executive Practice Management program, has worked on the "Executive Planning Board" of the U of F SNDA Impressions Program, and was the "Student Representative" for the Wellness Advisory Council.
Olga's Professional Memberships include: 1. American Student Dental Association 2. Student National Dental Association 3. Student Member of the American Dental Association: 4. Student Member of the Florida Dental Association and 5. Student Member of the Academy of General Dentistry.
In her "spare time," Olga relaxes by playing the piano and jumping out of airplanes. She earned her skydiving license in 2015, and has logged over 30 solo skydives, despite a life-long fear of heights. Pushing herself to conquer that deep-seated fear has changed Olga's perspective and approach to everything else in life. Rather than shying away from obstacles, she now sees each new challenge as an opportunity for personal growth.
Presently, Olga has been accepted into a one-year Oral and Maxillofacial Surgery preliminary internship at Massachusetts General Hospital. After completing this program, Olga plans to pursue a 4-year Oral and Maxillofacial Surgery residency, and ultimately hopes to work in both an oral surgical practice, treating patients, and helping to train the next generation of dental surgical professionals in an academic setting.
It is indeed a awesome pleasure for the Members of the Florida Society of Oral and Maxillofacial Surgeons to provide the Lebowitz award in honor of your meritorious efforts, and to simply say: "YOU GO GIRL," as you pursue your planned continuing education to fulfill your desire for lifelong service to patients and to further the dental profession!
Lawrence K. Cook, D.D.S.
Awards Chairman