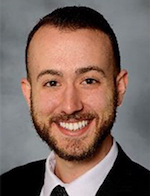 This May, in a COVID imposed virtual ceremony, the FSOMS presented the prestigious Lebowitz Award to Dr. Justin T. Norell.  This award is presented to the most outstanding graduating DMD in the class of 2020 with a concomitant interest in becoming an Oral and Maxillofacial Surgeon.
Justin was born and raised in Plantation, Florida, the son of Robert and Gwynn Norell. His Mom is a Speech-Language Pathologist for the Broward County School System, and his Dad is an Employment & Wage Attorney, heading his own firm. Justin graduated from Nova High School in Davie Florida in 2012. From there, he became a "Triple Gator." He received his B.S. degree in Biochemistry with a GPA of 3.84 in 2016, graduating Summa Cum Laude. He received his DMD degree with a GPA of 3.82 in 2020 and has now entered an OMS residency at the University of Florida. 
Justin has received a number of HONORS & AWARDS during dental school including being on the Dean's List at the College of Dentistry, receiving the Climb for Cancer Foundation Scholarship in 2018, he received both the Psi Omega National and Regional Chapter Excellence Awards (Top National & Regional Chapter) and the Psi Omega Regional Community Service Award, all received in 2017. His LEADERSHIP ACTIVITIES include the Leader-elect of the UF OMFS Interest Group with responsibility for organizing monthly OMS interest group meetings and coordinating the OMS elective course with DMD students and OMFS faculty residents. He is especially proud of having been the Co-Founder of the Dental Student Podcast between June 2018 and the present, it being on iTunes and Spotify with unique downloads totaling just over 10,000 with responsibility for releasing bi-weekly episodes that offer experiences, opinions, and guidance to predental and dental students nationwide regarding life in dental school. Justin was the National Conferences Representative for the U of F (American Student Dental Association) and was responsible for the direction of the community service projects as well as Social Director of the monthly events. He was a U of F Dental Teaching Assistant, oversaw the Psi Omega Fraternity chapter operations, was Vice President in 2017 & 18, and was also Director of Fundraising for the U of F Med Life as the sole dancer and fundraiser during the multi-million dollar philanthropy – 2015 Dance Marathon. Justin's CAMPUS AND COMMUNITY INVOLVEMENT included: WeCare Alachua County Health Department Clinic; the UFCD Dominican Republic Mission Trip; Infuse Smiles at UF Shands; University of Florida College of Dentistry core Science & Pre-Clinical Lab Tutor; Student Volunteer for the free Dental, Optometry & Medical Clinic; Volunteer for the Equal Access Clinic Network; was a Student tutor for the University Athletic Assn. (UF Main Campus); and Volunteer Research Intern for the UFCD Oral Pathology Department as an Undergraduate Lab Technician.
Justin has indeed been one busy bee besides having to overcome cancer during his second year of Dental School. When asked what "Turns Him On In Life," Justin admitted to being a bit of a gear head with a love for cars, bikes and practically anything else with an engine and wheels. He avidly enjoys exercising and stays current on nutrition and wellness, and because of his cancer tries to be ever present and mindful of the practice of modern meditation on a semi-daily basis.
We here at the Florida Society of Oral and Maxillofacial surgeons applaud your many accomplishments, Justin, and we wish you every success in your pursuit of OMS training and hope to have you as a fellow practitioner in the near future.
Lawrence K. Cook, Editor and Awards Chairman